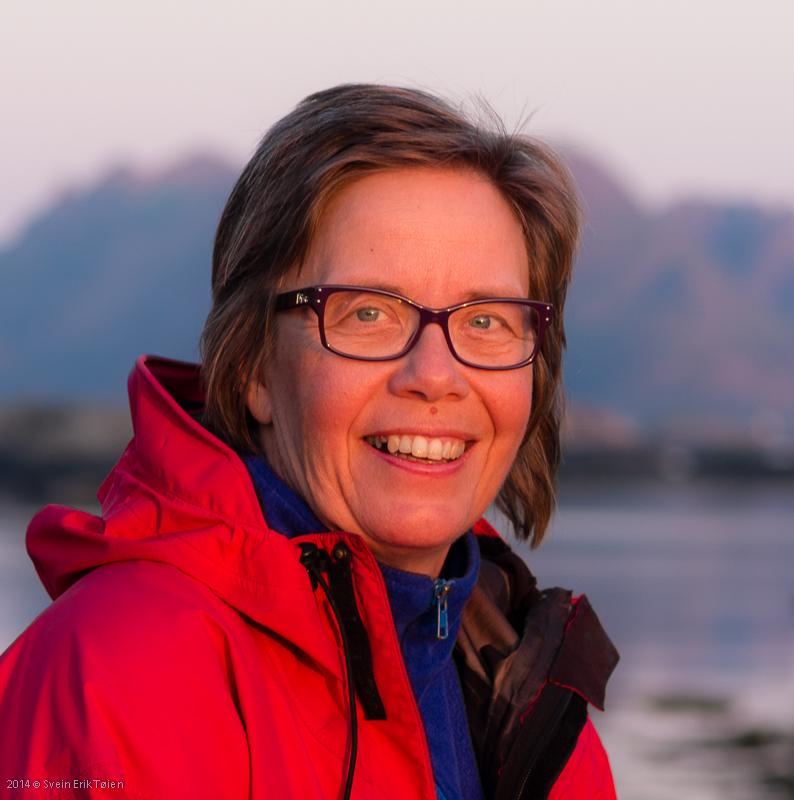 Marie Elisabeth Mjaaland (born 1958) is the CEO and owner of Nyksund Courses & Retreat Center. She holds an MBA (Orebro 1980), philosopher / cand. philol. (Tromso 2002 treatise on Martin Bubers dialogue philosophy) and priest (Oslo 2008), and has, among other things 10 years experience as an economist in the private sector and eight years as a priest in the Norwegian Church. She also has an intermediate exam in art history, intermediate addition in municipal management, as well as a very extensive self-study and practice of Christian mysticism, spirituality and self-development (about 35 years). She has experience as a spiritual advisor, counselor and retreat leader, and has lectured and published articles in the areas of dialogue philosophy, spirituality and Christian mysticism. She has also been a writer with ia own column "Dear fellow man" in Bladet Vesterålen. She is currently working with a book project called "On the threshold of a new age."
Marie experiences herself strongly associated with nature and Mother Earth, and owes much of her daily inspiration from nature and the many shifts of light. Through more extensive and profound inner processes of transformation and restructuring, she has gained deep insights in both spiritual and creative and innovative processes, like what it means to be a human today. Marie is convinced that all people are one, and that everything we say, think and do, necessarily affects the whole. She is also convinced that many of the challenges humanity and the planet faces today stem from lack of awareness of this connection.
Marie has the ability to go in depth and to be present at the meeting with other people, and wishes through her Author- and retreat business to facilitate the individual's restoration of his/her own unique touch with the totality / source of all life. Only in this way it is possible to create good and lasting changes to the planet and the common good, she says.
Marie grew up in Munktorp on the Swedish countryside 15 mil west of Stockholm but has lived in northern Norway since 1980.
Svein Erik Tøien (born 1955) is married to Marie, web manager, handyman and janitor in Nyksund Courses & Retreatgård. He is a graduate architect (Trondheim 1979), and has mainly worked with the planning of public buildings such as schools, kindergartens and healthcare centers. 1982 -1992 he was a partner in the architectural firm working group HUS in Bergen, where he participated in projects for Rudolf Steiner schools in Bergen and Stavanger. 1993 – 2014 he has been employed by BOARCH architects as in Bodo, where he has been primarily responsible for Skjerstad school and kindergarten, Waldorf kindergarten in Bodo, Fauske high school, as well as a new hospital building for Nordlandssykehuset Vesterålen. The last project was his full-time occupation 2008-2014.
Svein Erik is concerned that architecture will both create good places and space for human relations and meetings, and the buildings themselves should express something that resonates with the user / viewer.
Since early adolescence Svein Erik been doing photography, with a close relationship to nature and landscape, and is often seen with a camera and tripod under changing weather and light conditions in Nyksund. He has a separate Web gallery – www.setoeien.com – where it is also possible to see many pictures from eg Nyksund, Vesterålen and Lofoten. A collection of photos from Nyksund is currently displayed in the exhibition "Nyksundimpresjoner" in Restaurant expedition Sortland, and changing exhibitions of landscape photography is displayed in Nyksund Art Gallery.
Svein Erik grew up in Eastern Norway, but has lived in North Norway since 1993. He has established an architectural office in Nyksund, called NYKSUNDARK.
Pictures of Nyksund in Svein Erik Web gallery can be found here.
Save