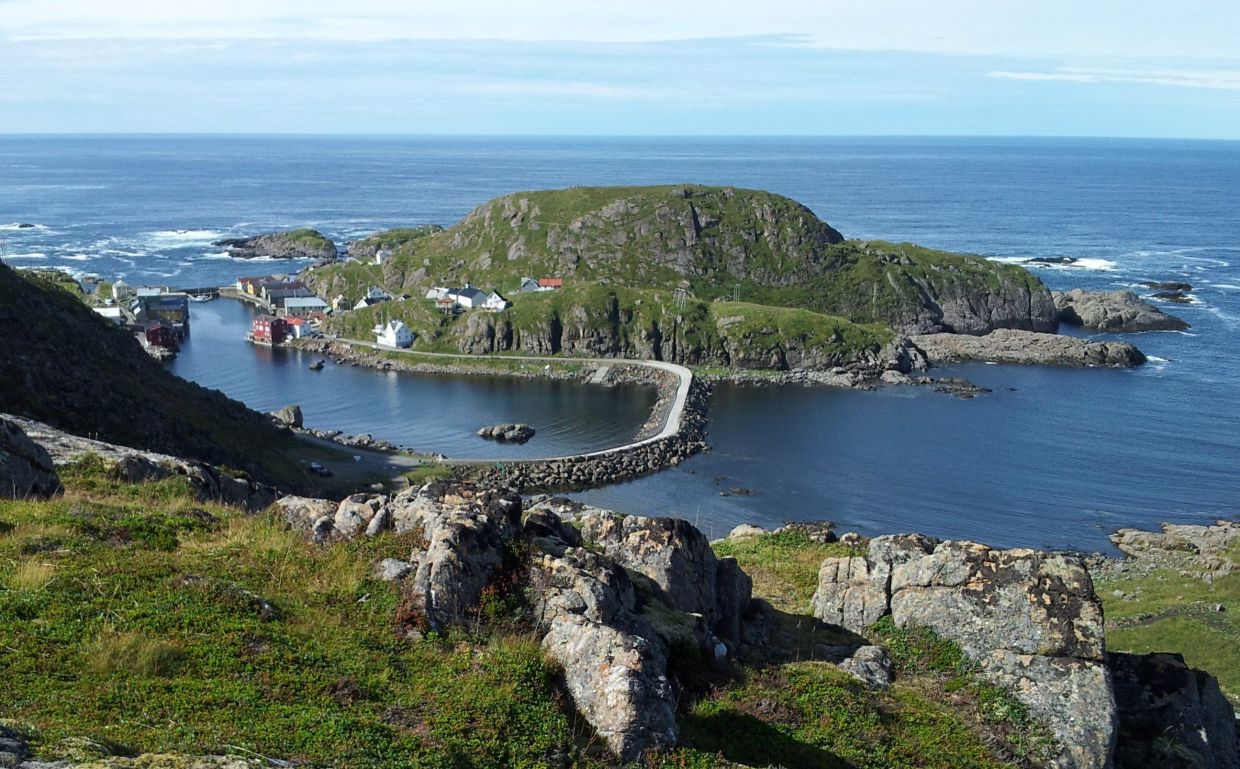 Photo: Marie Elisabeth Mjaaland – Nyksundøya seen from path up to Nyken.

Text: Marie Elisabeth Mjaaland – Copyright 2015

Nyksund – "The City in the Sea"
Nyksund is an old abandoned fishing village in Øksnes municipality, on the outer side of the wild and beautiful Vesterålen – just north of Lofoten and around 500 kilometers north of the Arctic Circle – but which in recent years has been given new life by artists, musicians and other "Nyksund enthusiasts" who have settled and started taking care of the derelict buildings.
Architecture – consisting of ca. 85 buildings of which one-fourth are storehouses – is concentrated on the two small islands Nyksundøya and Ungsmaløya which are connected by a narrow jetty, and which also forms an inner harbor. In addition Nyksundøya is linked by a jetty over to Langøya and gravel road leading to the village of Myre.
For about a hundred years ago Nyksund was the second largest fishing village in Vesterålen with about 250 residents, and up to a thousand residents in the fishing season.
Now home to 15 residents on the two islands, including four children, and where most adults are engaged in business activities in the arts, culture and tourism.
Midnight Sun and Polar Night
In Nyksund it is possible to experience the midnight sun for two months – from 20 May to 20 July. And then it steems with life here by the sea with many visitors from home and abroad, open restaurants and accommodations, and a variety of cultural events such as art exhibitions, concerts and festivals.
In winter, however, it may be even so quiet – but then a rich wildlife blossoms instead. Eagles, cormorants and other birds mingle with the settlement, and likewise otters, seals, foxes, minks and other wild animals. Not infrequently we can also experience whales close to the harbor pier – killer whales, humpback whales, fin whales and other whale species.
And since we have the midnight sun for two months, we also have polar night for two months when the sun is below the horizon – from 20 November to 20 January. But it is nevercompletely dark. There is always some twilight at noon, and by clear weather, the polar night sky can almost take your breath away with all bright colors of red, pink and orange to turquoise, purple and dark blue.
But also the pitch-black darkness has its charm as residents, guests and other paw around among the houses dressed in thermal suit and headlamp …
From late August to around Easter it is also possible to experience the northern lights – and in Nyksund this can be experienced particularly spectacular due to the wide-open landscape of sky and sea, and with few Light Interferences.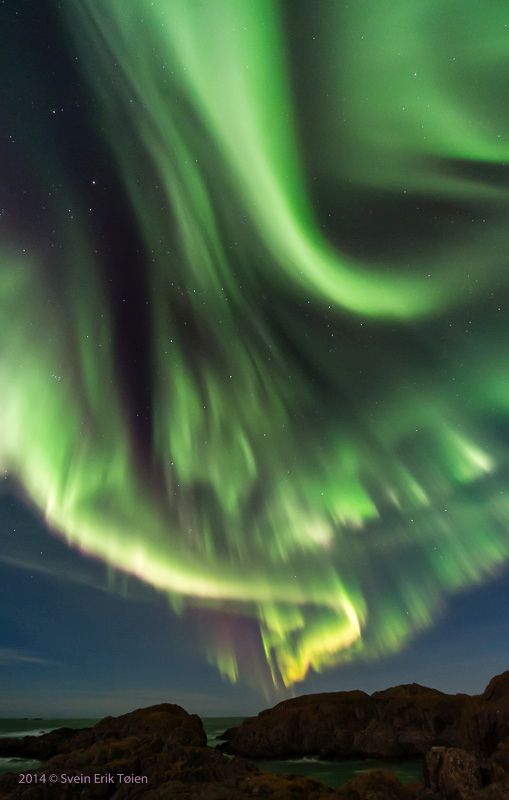 Nature and flora
The scenery around Nyksund is varied, dramatic and spectacular. To the south, west and north sky and sea meet in the large and wide horizon, while to the east the mountains of Langøya rise steeply up from the sea to the brooding well 650 meters into the sky. Geologically these mountains – which includes Lofoten and outer Vesterålen – belong to one of Earth's oldest rock formations, and were made about 3,500 million years ago.
Nyksundøya is the higher of the two inhabited islands and about 70 meters high. The outside of Nyksundøya comprises of sharp cliffs, deep gorges and steep slopes, and can not be negotiated along "shoreline." The top and the lighthouse to the west, however, invite to trips around the clock when the weather conditions allow it – whether it is to enjoy the view, enjoy the midnight sun or to let yourself "marinate" by the northern lights a dark autumn or winter. Top of Nyksundøya is simultaneously helping to shield the  settlement from the cold wind from the north.
Soil cover on both Nyksundøya and Ungsmaløya is poor and frail, and vegetation little while the coastal zone is very narrow. "Høgfjellsflora" with various heathers and grasses just down the shoreline, is therefore most to see in and near Nyksund, and the short stature and harsh mountain birches – and among others to find in Nyksund valley. Are you interested in finding "meadows" with diverse flora, one has to go to Vottestad – The small village about 4 kilometers along the road inland to Myre.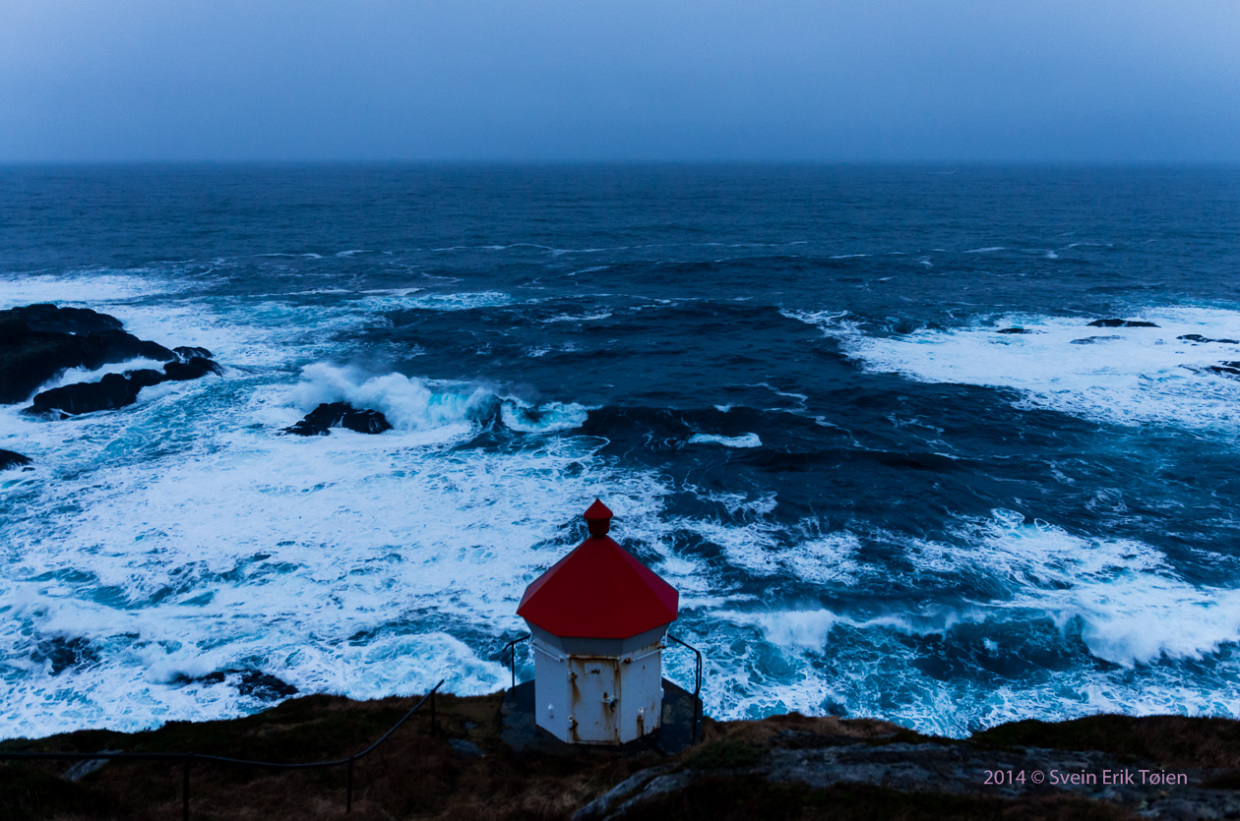 "The Food Basket" – Nyksund's ground for existence for millennia
As a result of the very limited possibilities for farming and livestock, the fish and fisheries has been Nyksund ground for existence over the years. For each year, from January to Easter, the skrei – the spawning cod – is passing along the "shelf edge" just outside Nyksund, on the way from the Barents Sea to the spawning grounds in Lofoten, and then back again after spawning.
Closeness to the "dinner plate" winter fishery and the relatively good ports, has therefore achieved a settlement in Nyksund far back in time. By Rødnesset Langøya, about 2 kilometers before the causeway over to Nyksundøya, it remains inthe ground that may indicate that here have lived people as far back as 4000 years before the beginning of our era, that is over 6000 years old.
By Skåltofta on Langøya, directly above the settlement of Nyksund is also the remains of one of the largest longhouses known to man in Norway (34 meters). And since it is common to assume that household status in the community correspond to long frame size, there is reason to believe that wealthy people during the Viking era have lived in Nyksund's immediate vicinity.
But like so many other places Nyksund has in periods become desolate because of plague and famine, and the place has been completely vacated at least 3 times, historians believe.
The development of Nyksund from remote farm to the ocean to fishing village began to gain momentum towards the end of the 1700s when a trader would exploit the site's proximity to rich fishing grounds. But it was not until a century later, 1870 in connection with the large salmon runs of herring in Vesterålen and Lofoten, that Nyksund grew and became one of the largest and most significant fishing villages in Vesterålen – a development that lasted for 70-80 years until all site area that was possible to build on was exploited, and then some.
Establishing harbor and jetties
The narrow jetty that connects the Nyksund island with the Ungsmal island, was built in the years 1875 to 1878 to accommodate 150 boats in a sheltered and long anticipated harbor. The joy was short-lived when fierce winter storms in 1880 removed much of the stone embankment on the pier outside, and the sea broke into the harbor basin and transformed many boats to smithereens, and also breaking with a fishermans hut on Nyksund island.
Extensive repairs and reinforcements were made in subsequent years, but already winter 1882 when only little remained of the repair work, was Nyksund again hit by violent storms, and all repair work was destroyed – including a major portion of Ungsmal island which was completely undermined by the rough sea . It was decided to protect the breakwater using big break blocks on the outside, while it was built a short jetty from the eastern tip of Ungsmaløya (where Nyksund Brygge including conference and concert venue located today) to protect the port from swells through the waters between Nyksund island and Langøya.
The jetty between Nyksundøya and Langøya was built in the years 1959 to 1961, and thus Nyksund also gained road access to the rapidly growing and "modern" village Myre.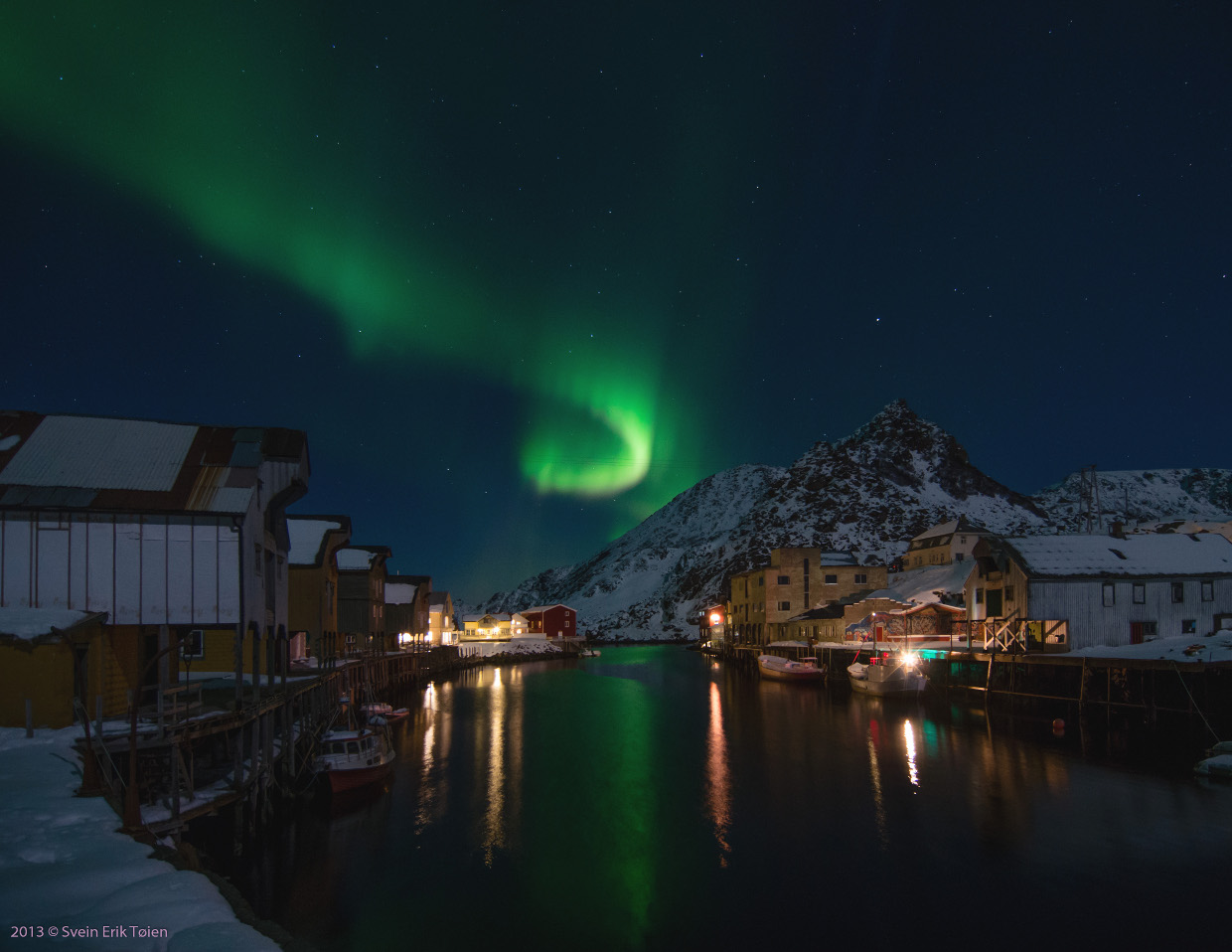 Growth and stagnation
Nyksund never had any squire, as has been common in many fishing villages along the coast. Here the Norwegian government owned the ground. This opened up for innovation and a more dynamic development, with room for both entrepreneurs and other travelers who wanted to settle down. Nyksund was therefore quickly a service center offering a complete service to visiting fishermen – fish processing plant, handling, post office, blacksmith, shops, bakery, cafe, liquor outlets, chapeau, steamers docking system, etcetera
A major fire in 1934, which engulfed the four large storehouses and a number of smaller houses on Nyksundøya, led among others to blasting of part of the mountains side to give more room for business. Meanwhile, the new storehouses were constructed in self-produced concrete stone cast on the spot, called "Randolf Stone" by contractor Randolf Rødsand who had been in America and inspired – probably also of false facades that is characteristic of some of the storehouses on Ungsmaløya.
The motorisation of the fishing fleet, with ever bigger and faster boats, however, led to that the port became too small and too tight. With fast boats it was also no longer required to stay up in the "food source" for "rowing fishing" and many chose in the postwar years to move from the barren and harsh Nyksund to Myre, 13 km away.
Those who wanted to stay in Nyksund therefore had to find other ways of making a living than traditional fishing, and partly invested in fur farming and mink farming. But with swinging and declining economic conditions in Europe, along with the negative focus on fur farming industry, it should prove to be a very vulnerable market and several of the remaining companies in Nyksund went bankrupt.
Depopulation Decisions and "ghost"
The completion of the road between Nyksund and Myre in 1961 made the transfer of pupils to Myre possible, and the secondary school was closed. Many families chose to move, and eventually the whole school closed down. But the real "killing blow" to Nyksund came with the state-controlled centralization policy in the early 1970s. Øksnes municipality searched for eviction state grant and got it, and several of the remaining inhabitants of Nyksund felt "forcibly moved", not least because the offer was supplemented by a registered clause that those who did move could not restore or stay in their houses for 30 years.
The blacksmith was the last one who moved from Nyksund in 1975. What once had been a particularly viable location was within a short time turned into a "ghost town" – aided by the weather and vandalism …
International youth project
In the early 1980s, a German social pedagogue discovers Nyksund. He saw the opportunity for an international youth project between Technische Universität in Berlin and Nyksund for disadvantaged youth, where they could be rehabilitated through practical work such as carpentry, painting and tidying. "The international Nyksund Foundation" was formed, and in 1985 came the project started.
Weekly bus service was established between Berlin and Nyksund in the summer, and at the most could be around 100 youths who hammered and crafted in "ghost town." Many houses were thus secured for further decay.
Among the local people there was a quite considerable skepticism that German city youth put the place to use, and the project ended after a few years. Thus Nyksund was again an abandoned place and decay continued.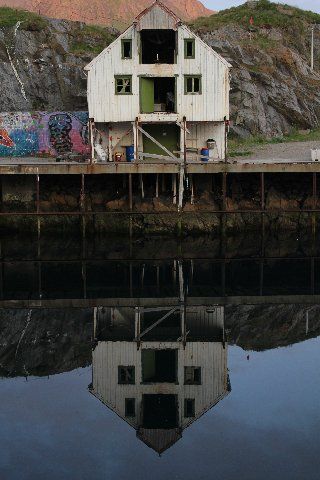 Art, culture and tourism
Towards the end of the 1990s and early 2000s  "culture site Nyksund" began to emerge. Creative souls as artists, craftsmen and tourism companies became interested in the place, and one could again hear hammering between the houses.
After the Norwegian television program "Where no one would believe that someone could live» visited Nyksund in 2007, many had their eyes opened to the once abandoned fishing village. Many visitors found their way to Nyksund, and today there are several lodging places and restaurants that stay open during the summer season, or on request.
Some artists, musicians and creative souls have chosen to pursue a life in Nyksund, while others return year after year to be inspired by the unique location and the magnificent scenery. Regularly enthusiasts and others also host concerts, festivals, art exhibitions and similar in Nyksund.
"Lonely Planet travel guide" (2015) describes Nyksund as "a former abandoned fishing village that's now re-emerging as an artists' colony" – and maybe rightly so. In 2003 artist Sigrid Szetu established her own studio in a new, architect designed building – other artists have similar plans – and in 2015 no less than two new galleries opened: Gallery Nyksund Brygge in the former museum localities that got hard hit during the storm "Kyrre" in 2014 and Nyksund ART Gallery in newly renovated premises in "the Old Bakery" at the harbor breakwater.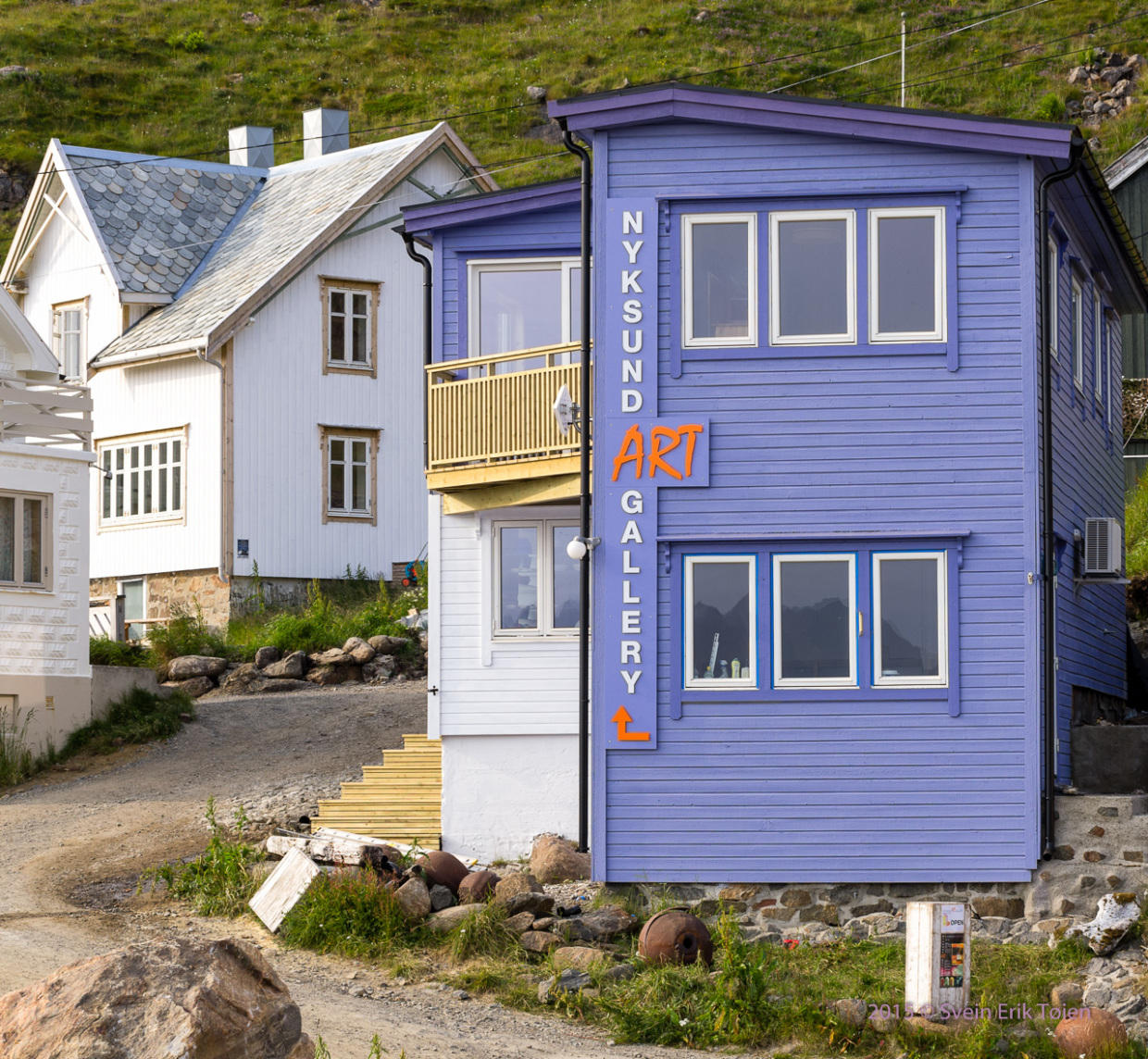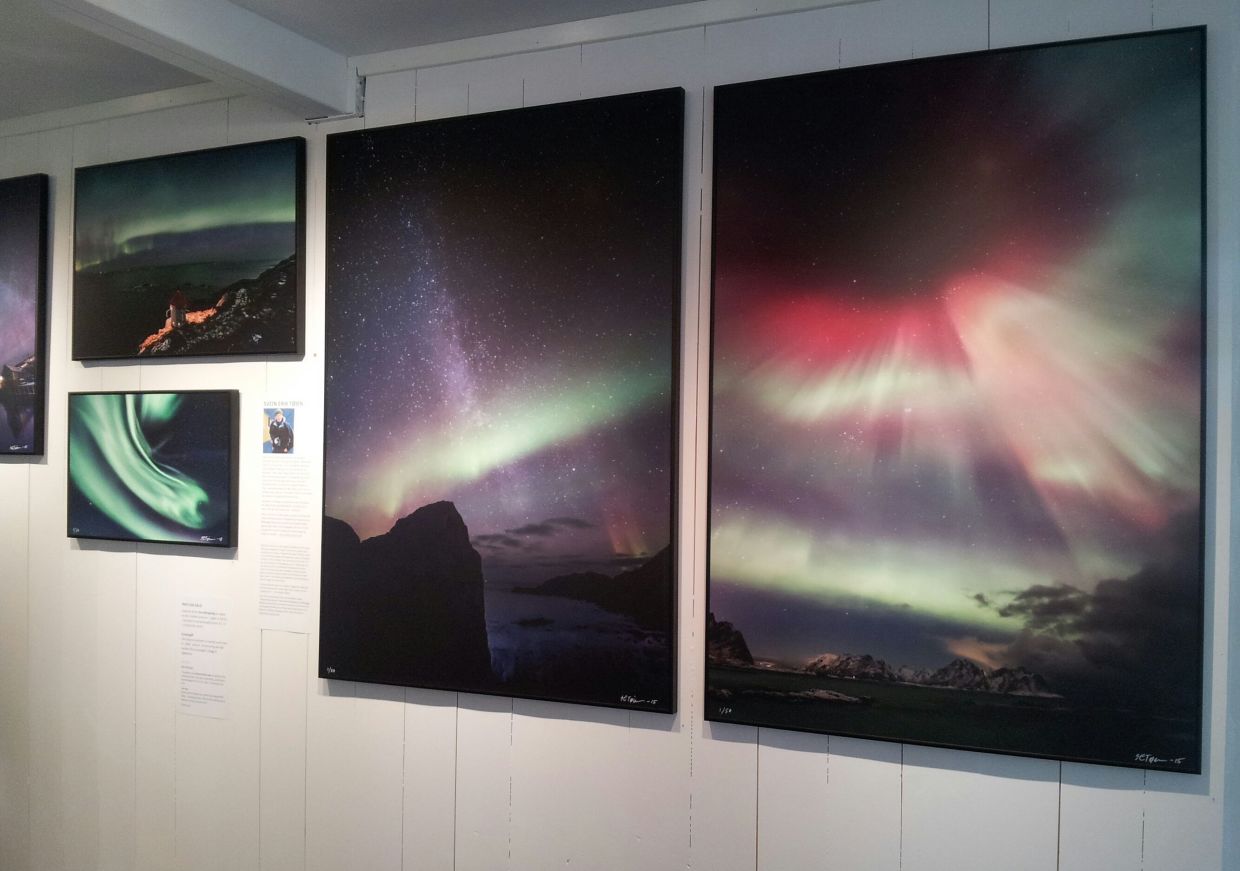 Nyksund ART Gallery is part of the activities of Nyksund Courses & Retreatgård and here architect and photographer Svein Erik Tøien has got permanent premises for his photographic art and his architectural office, NyksundARK.
Climate
Nyksund is in many ways the realm of rapid shifts and rich contrasts – it applies to both wind and weather, light and color, as people coming and going …
There is also no exaggeration to say that in Nyksund one can experience all seasons in one day. Spring comes early, summer suddenly and winter quickly – with all varieties in between! But common to  all seasons is that there is much wind and weather in Nyksund. Winters usually change between mild weather with rain and wind from the west and cold with snow from the north or clear from the east.
Summers can lead to sea mist from the north and northwest, or excessive moisture, rain and wind from the southwest. But it is also possible to experience many long hot summer days, with the sun 24 hours a day and clear sky. However temperature differences locally can be very large, depending on whether one feels the cool draft from the north and the east wind – or not. Down jacket and bikini can therefore well unite in Nyksund!
In love with Nyksund?
Many visitors tell that they are fascinated by Nyksund – that they experience the place as "magical", they are "in love Nyksund" – and therefore return again and again …
For us who live all year in Nyksund, this is not at all difficult to understand …
Welcome!
Save
Save