"Summer Exhibition 2016″ opens Midsummer Eve 18:00 v / mayor Karianne Braathen.
The exhibition will be open to the public every day at 14-17 until August 14 – as well as by appointment.
Below you can read more about the exhibition and the 12 participating artists and craftspeople.
By Marie Elisabeth Mjaaland – general manager of Nyksund Courses & Retreatgård / Nyksund ART Gallery.
It has been a great pleasure but also an intense and demanding work to work off this year's summer exhibition – "Summer Exhibition 2016" Creative ideas have flowed, deep artistic meetings which constantly created new tracks, artwork that only "have to" displayed has reported his arrival and so on – and yet, things were was made while the road has been gone …
It began in October in Bærum Art Association when we met textile artist Brit H. Fuglevaag on her solo exhibition inspired by the witch burning in Finnmark in the 1600s.
Stunningly beautiful and colorful tapestries – with so much fervor, woman power and commitment, even in the artist himself – that the whole experience as one big firework of colors and energies!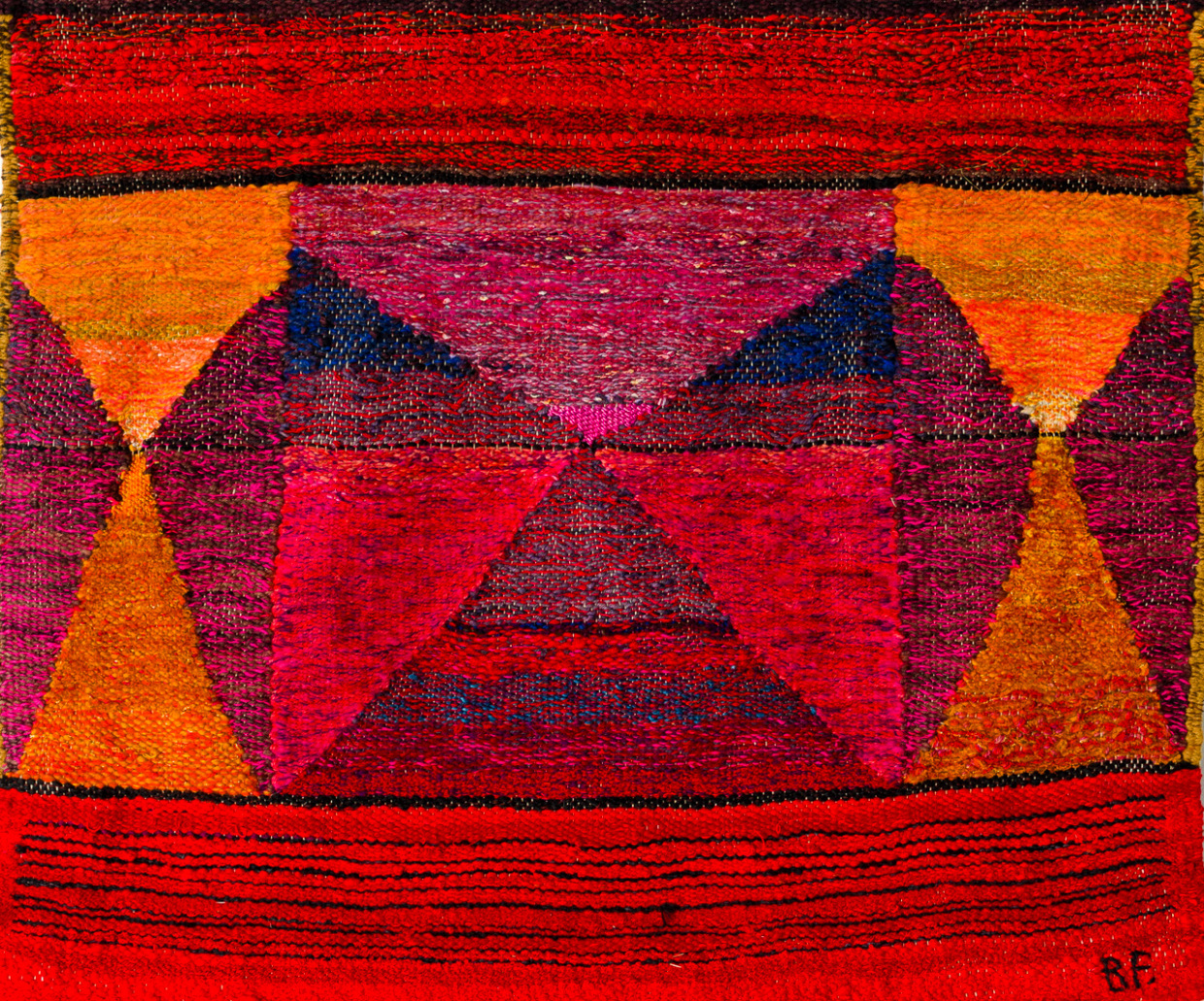 So the choice of main exhibitor easily. It had to be this 77 years young and fit Britt Fuglevaag – trendsetter and renewing of weawery art through fifty years, nationally and internationally, with roots from Finnmark. And who still looms, traveling exhibits, but who, it turned out, still had yet to set out in Vesterålen, Lofoten and Harstad region.
And thus  also the exhibition "agenda" was set:
In this summer exhibition, we want particularly to highlight colorful women who through their creativity and creative zest radiate a force that affects and infects. Which through their arts and crafts express something "more" – and that makes the room changed, and ourselves feel appreciated and welcome …
And what can actually fit better in Nyksund – "city of the sea" – the outer edge of Vesterålen?
The place where strong north-Norwegian coastal women for centuries has ensured that life has moved on when natural forces have demolished the houses, and men and sons have been lost at sea.
The place that has refused to die several times, and instead allows itself to be transformed again and again by ever more enthusiasts who settle down – and that gets your creativity to flourish, to find new ways …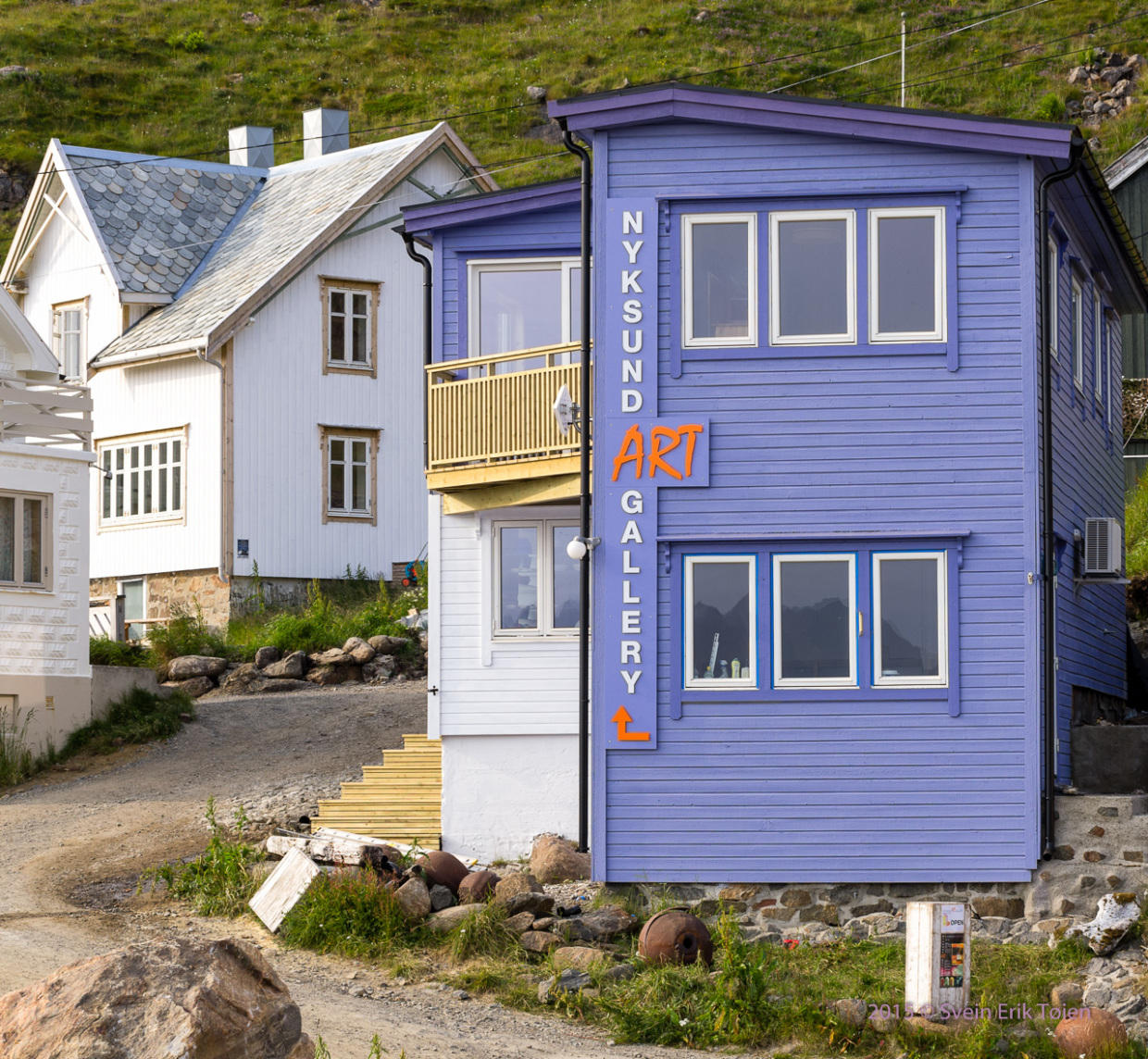 So we have put together a lovely "small bouquet" of 12 creative artists and craftsmen – 11 women and one man, many of them living in Nyksund – and where everyone in different ways inspired by light, colors and nature in her creative creation processes :
BRIT H. FUGLEVAAG – sharing her eagerness, enthusiasm and commitment
GUNN VOTTESTAD, 

SIGRID SZETU, BRITT BOUTROS GHALI –

Three colorful artists with very different expressions

KJERSTI JOHANNESSEN, ANNE KA MUNK EARTH, BEDA MARIA JOHANSON – three glassblowers that allow us to experience light and glass magic
BERIT ARCTANDER – potter who loves to model woman-reliefs
SILVIA REHNLUND – jeweler who through their jewelery allows us to partake of sea life
SVEIN ERIK TØIEN – photographer trying to capture the magic and invisible in nature
RANNVEIG GJEVRE, ASTRID ZABERNIG – 

two who greate warm and delicious woolen head, gloves and necks, which are almost always needed in Nyksund
Nyksund Courses & Retreatgård and Nyksund ART Gallery wishes to promote to create good meeting places – for creativity, spirituality and recreation. So –
WELCOME – to a colorful meeting with the power, creativity and creative spirit!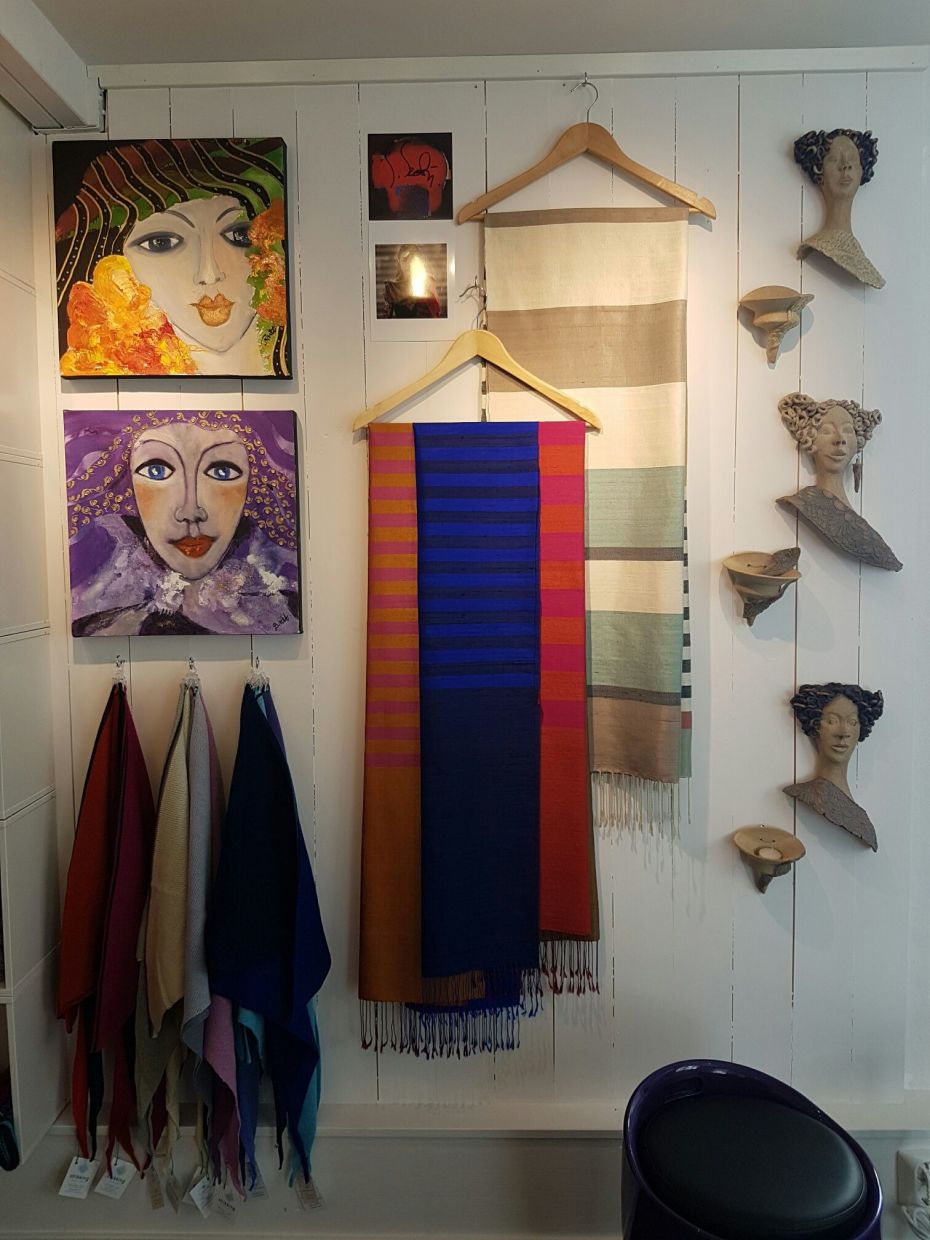 Four creative women are represented on this wall: Britt Boutros Ghali (painting), Rannveig Gjevre (ullsjaler), Sigrid Szetu (silkesjaler) and Berit Arctander (ceramics). Photo: M. E. Mjaaland
Below is a brief presentation of the 12 exhibitors:
1. BRIT H. Fuglevaag – textile artist
Brit H Fuglevaag born in 1939 in Kirkenes, but grew up in Trondheim when her mother died in connection with the birth. Brit is a graduate of the State Academy of the Arts School in Oslo – where she also was a professor – and from the Academy of Arts in Warsaw.
Brit debuted at the Autumn Exhibition in 1964 and has since then for over fifty years been renewed and trendsetter within experimental textile art – nationally and internationally.
Brit has lived many years abroad – including France, Italy and Poland, and had many study trips – has participated in a large number of prestigious exhibitions at home and abroad, and received awards for her artistic work. She also performed a wide range of public utstmykkinger, and is purchased by most major art institutions in Norway for example. National Gallery, Museum of Contemporary Art, Norwegian Arts and decorative arts museums in Oslo, Bergen and Trondheim.
Brit Fuglevaag year's main exhibitor at the "Summer Exhibition 2016" and sets out a total of 14 colorful tapestries in varying sizes, and where several of pictorial rugs are woven by inspiration from photos taken in Nyksund by Svein Erik Tøien.
Some of the pictorial carpets by Brit H Fuglevaag attending "Summer Exhibition 2016". Photo: Svein Erik Tøien.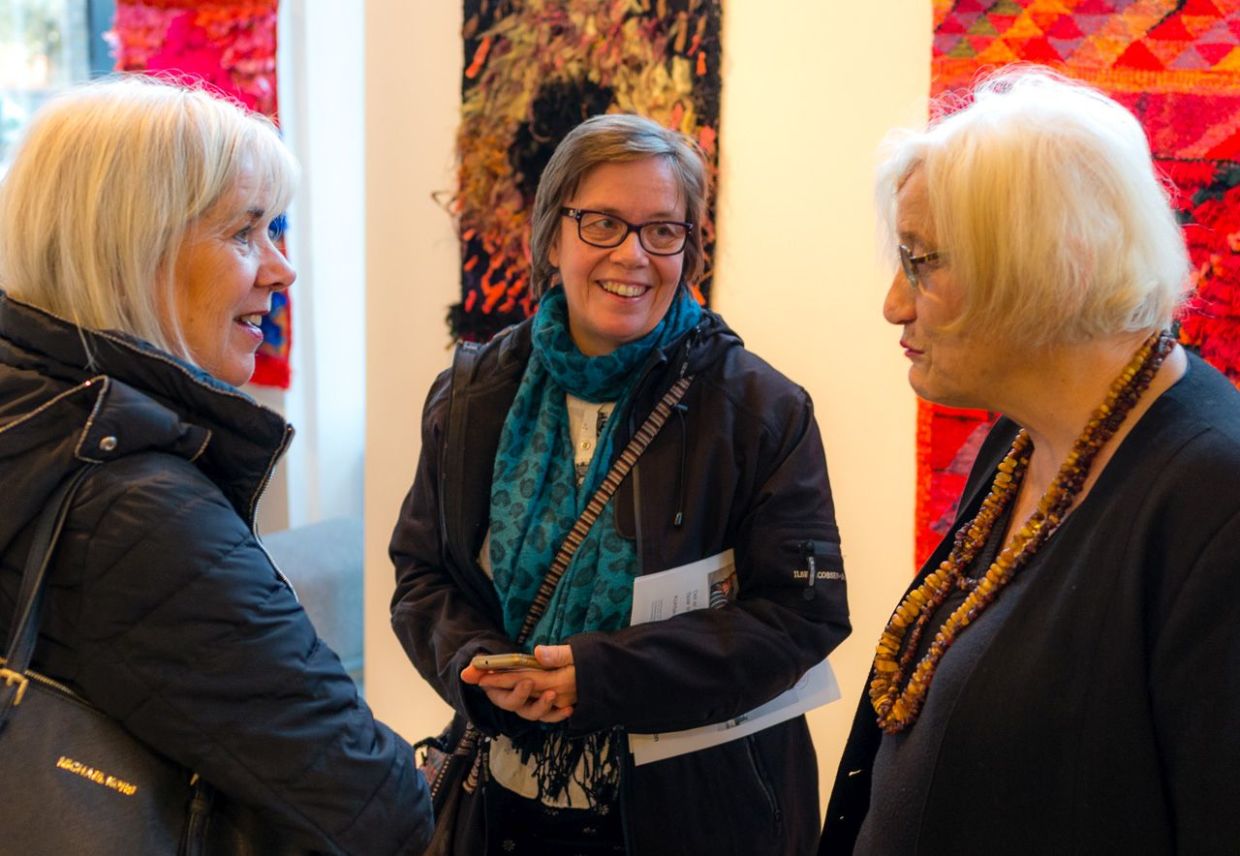 Visual artist Gunn Vottestad, gallerist Marie Elisabeth Mjaaland and textile artist Brit H. Fuglevaag in conversation during the latter's solo exhibition in Bærum Art Association, October 2015. Photo: Svein Erik Tøien.

2. Gunn Vottestad – visual artist
Gunn Vottestad is a painter and graphic artist living in Oslo but has its roots in Nyksund and on Myre in Vesterålen. She has her education at Oslo Drawing and Paint School and as a student of Hans Köhler.
Gunn is known especially for its "north-Norwegian house with soul" – mounting base constructed in simple materials immediately after the war – and that often arouses hjemlenges among many who have their roots in the region.
Gunn has had over 50 solo exhibitions at home and abroad, participated in numerous group exhibitions, and is purchased by a large number of public institutions, businesses and individuals.
Nyksund ART Gallery is now negotiating for Gunn Vottestad – which means you can see, buy and order Gunns artwork throughout the year.
Website: www. gunnvottestad.no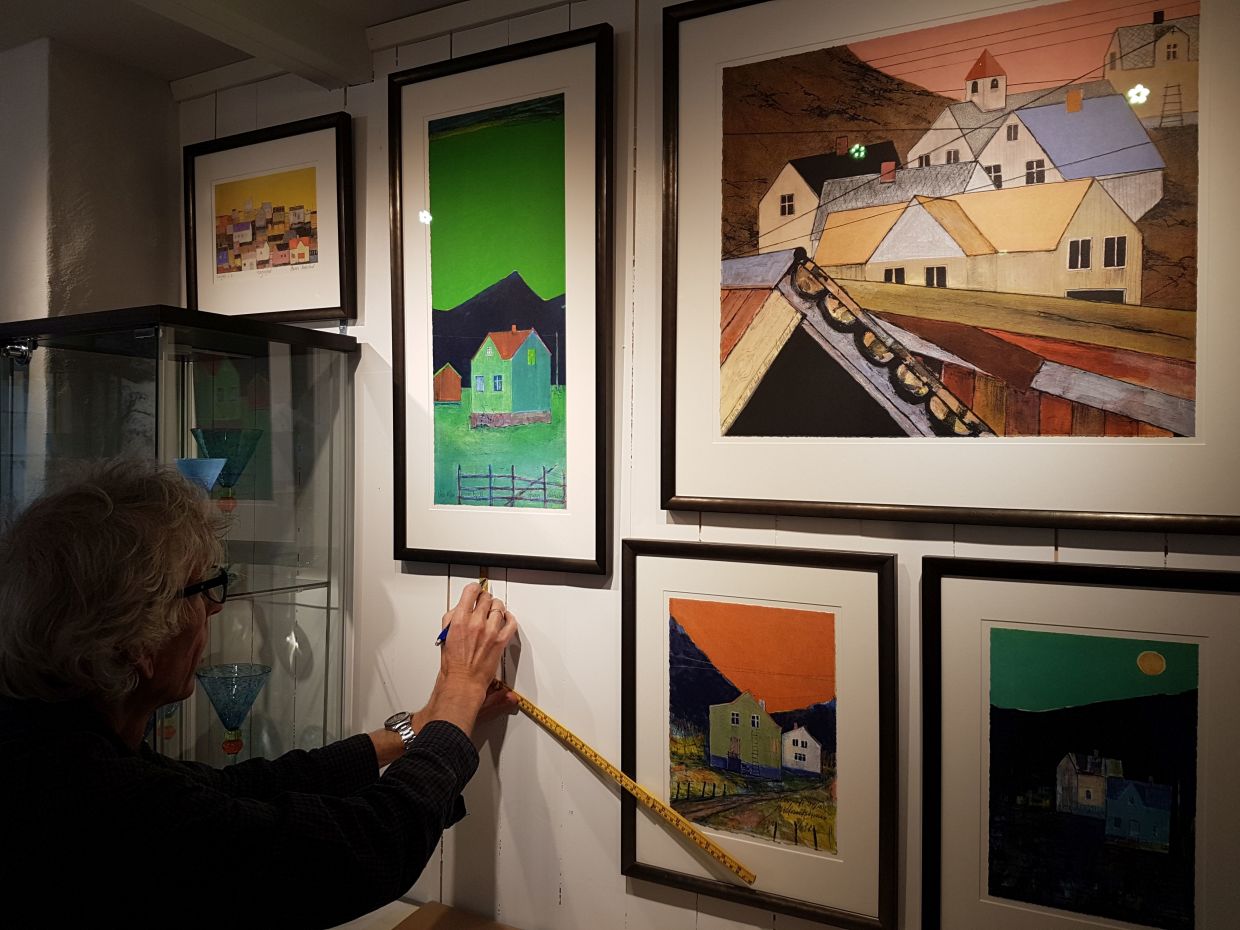 Installation of Gunn Vottestads graphics Nyksund ART Gallery. Photo: M. E. Mjaaland.

3. BRITT Boutros Ghali – visual artist
Britt Boutros Ghali – born 1937 in Svolvaer, and raised in Sortland in Vesterålen – has for over 40 years been living in Cairo in Egypt, and is best known for his abstract artwork.
Britt studied painting and sculpture under Ellen Christensen and Ferdinand Lunde of Oslo in the 1950s, and was early influenced by abstract expressionism. She had her first solo exhibition in Paris in 1965, and since then she has exhibited internationally throughout her career.
Britts works are collected in both public and private collections throughout the world, and she is still a very productive and sought after artist. In 1996, Britt was awarded Order of St. Olav – the highest honor given to a Norwegian artist who through his art promoted Norway abroad. Only Edvard Munch in his lifetime received this award before Britt Boutros Ghali.
In recent years, Britt has painted a series of portraits of women – often in large format – which she calls "Women of my world". These are women who exude an inner strength and confidence that many Western women often seem to lack.
The first time I saw some of these female portraits I was completely mesmerized by their radiance, peace, love and harmony. But also of their "secret". As if something important will be said through them – a "knowledge" we have forgotten – and that is of great importance for the time we live in …
In the summer exhibition will Britt Boutros Ghali be represented by some of their "ladies" in small format.
But already on August 20 it is possible to become acquainted with "ladies" in large format. Then Nyksund ART Gallery opens a solo exhibition with Britt's "ladies".
The exhibition will be until September 11th. We look forward!
Nyksund ART Gallery is also an authorized dealer for Britt Boutros Ghali, so whoever is interested in her art are welcome to contact us anytime.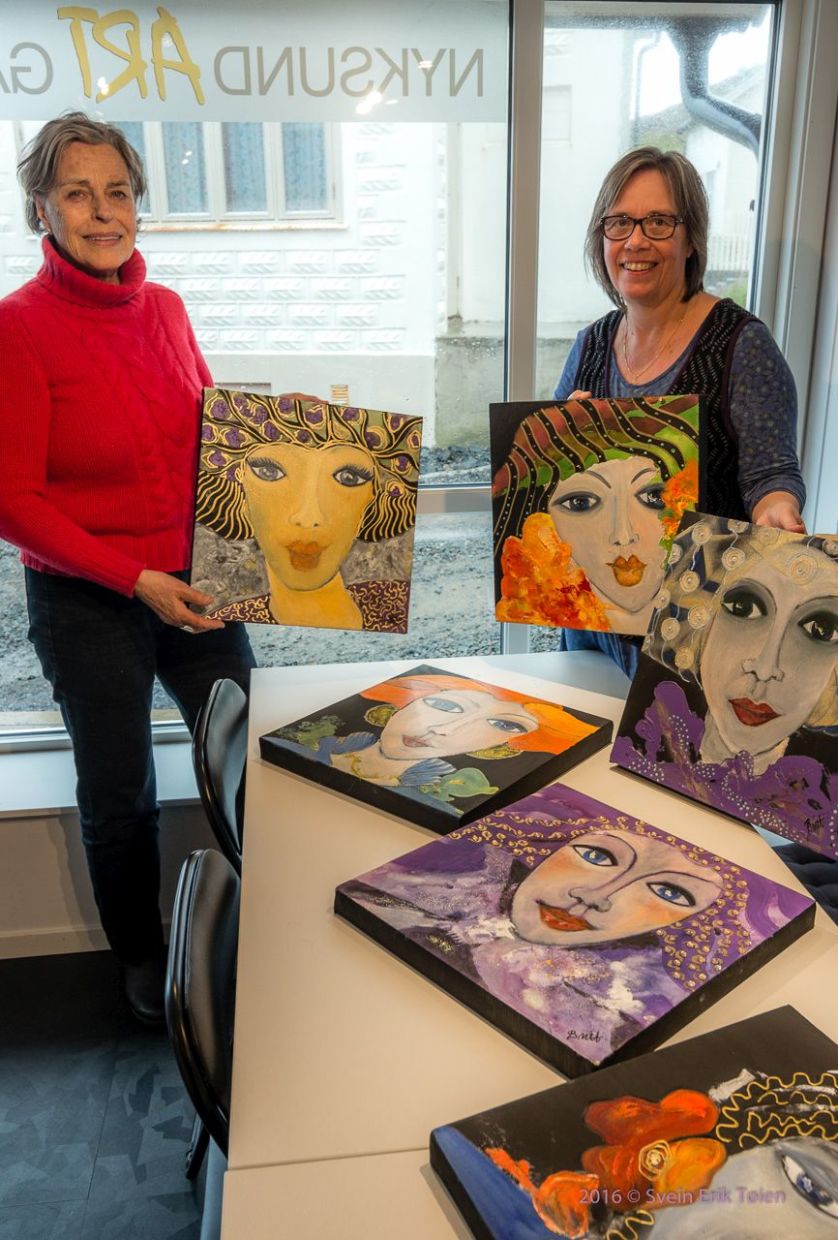 Britt Boutros Ghali with a "Women of my world" in small format with the "Summer Exhibition 2016" in Nyksund ART Gallery – here with gallerist Marie Elisabeth Mjaaland. Photo: Svein Erik Tøien.

4. SIGRID SZETU – visual artist

Sigrid Szetu was born and raised in Øksnes in Vesterålen, but left early from home to Bergen, and on to London for art studies at Camberwell School of Art.
After graduating in 1976 moved Sigrid to the island of Borneo in Southeast Asia – which came to put strong tracks herself, as well as in her art. Since 1986, Sigrid had base in Bergen, and from 2003 also in Nyksund where she has her studio.
Sigrid owes much of its inspiration from the sea, the light and the North Norwegian countryside. She has held numerous solo exhibitions at home and abroad, most recently in our in Art Kabuso – which is part of Hardanger and Voss Museum – which has received much praise.
In this exhibition sets out Sigrid silkesjaler that was made during a long and laborious but precise process. Silken is handspun in Thailand, stained by accurate advice from Sigrid, and then be woven by hand. Silkesjalene is only produced in a small edition, and where each shawl is a small work of art in itself.
Website: www.sigridszetu.com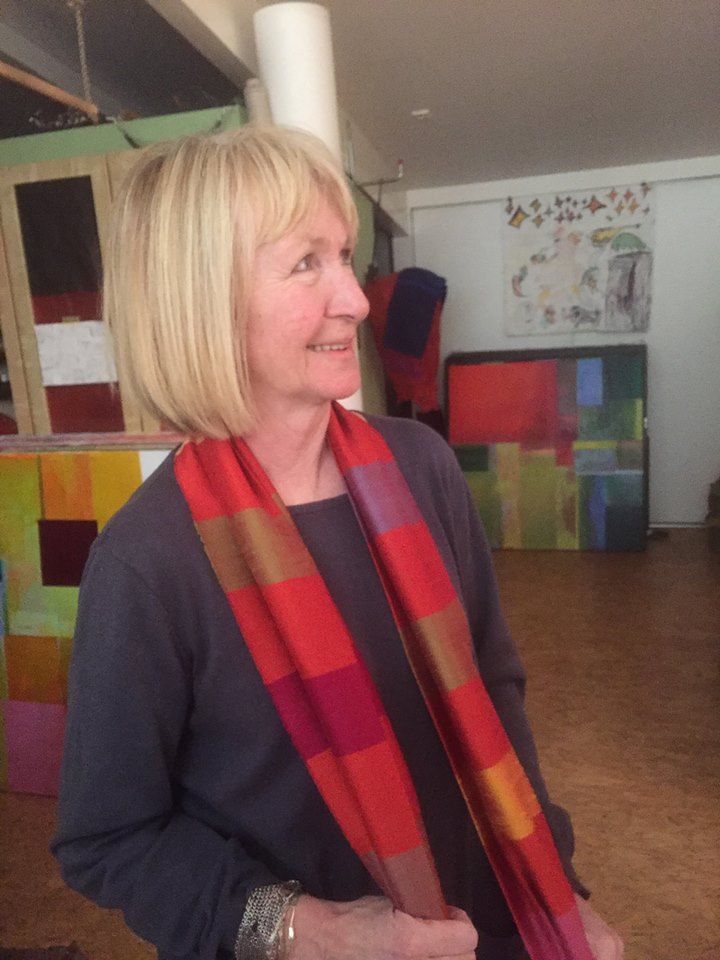 Visual artist Sigrid Szetu in her studio in Nyksund with one of her silk sjawls. Photo: Hilde Johanne Hansen.
5. SVEIN ERIK TØIEN – architect and photographer
Svein Erik Tøien is resident of Nyksund and is a trained architect with particular interest in photography. Ever since early youth this has been a strong passion, but it is only in recent years that he has opted for a professional photo business with assignments both from private and public clients.
From his base in Nyksund Svein Erik has been especially interested in landscape and nature photography, where he is trying to capture the shfting lights as well as the magic and "invisible" in nature. In autumn 2015 had Svein Erik a travel and work grants in East Iceland, where he further had the opportunity to immerse themselves in this.
Svein Erik has since more than ten years had his own Web gallery – www.setoien.com – where particular photos from Nyksund and the north-Norwegian coastal landscape is well represented. He has also recently held several solo exhibitions.
Website: www.setoien.com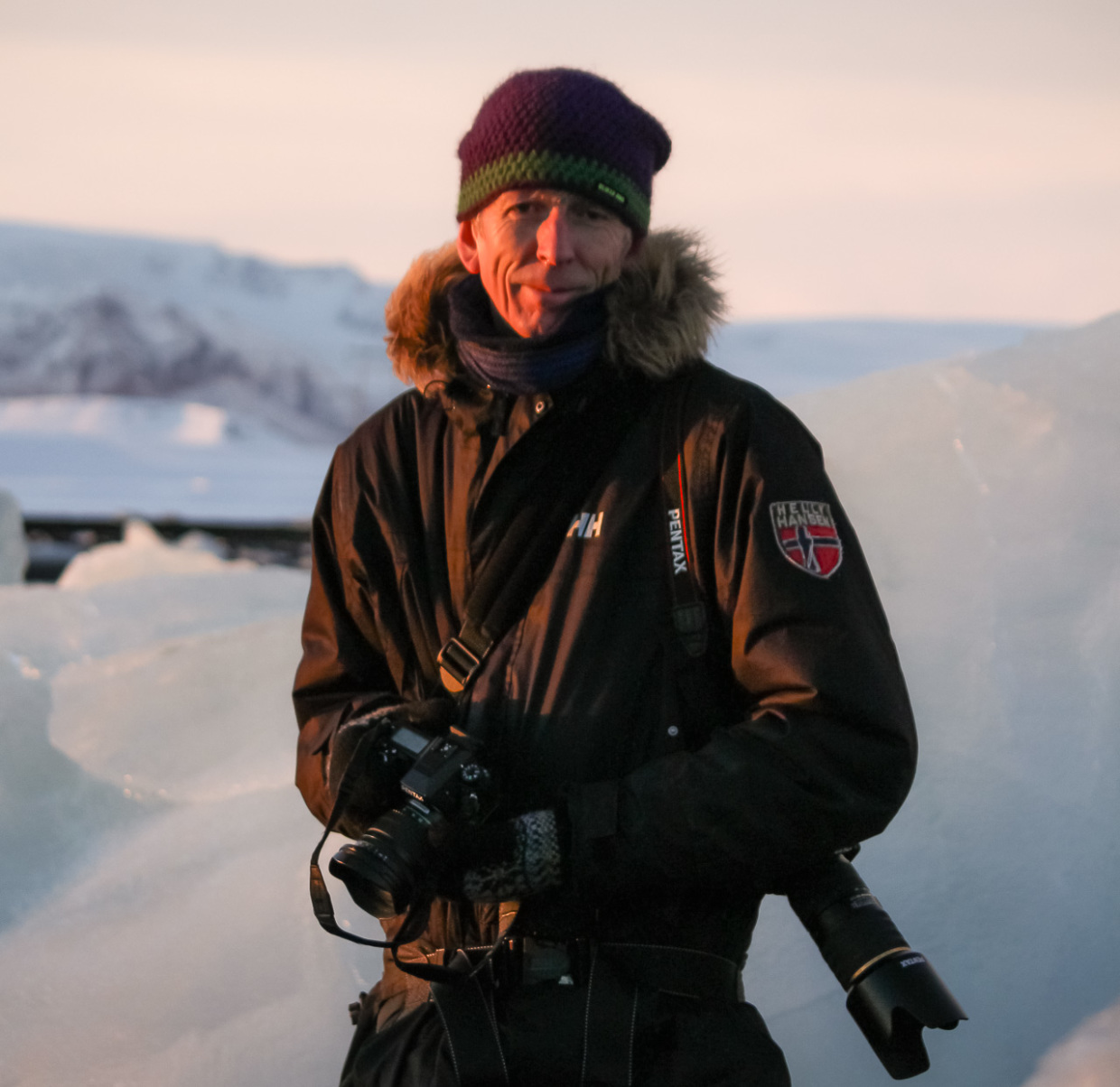 Svein Erik Tøien in East Iceland, in November 2015. Photo: M. E. Mjaaland

6. SILVIA REHNLUND – goldsmith
Silvia Rehnlund is a trained goldsmith with journeyman from Plus school in Fredrikstad. She is originally from Balsfjord, and has included worked at Juhl's Silver Gallery in Kautokeino before she five years ago established her own smithy – "Smithy Silvia" – in Hadsel in beautiful Vesterålen.
Silvia creates personalized jewelry in precious materials – mainly 925 sterling silver. She draws inspiration from the beautiful north-Norwegian coastline, and items such as sea urchins, crab claws and shells are often seen in her jewelery.
Website: www. rehnlund.com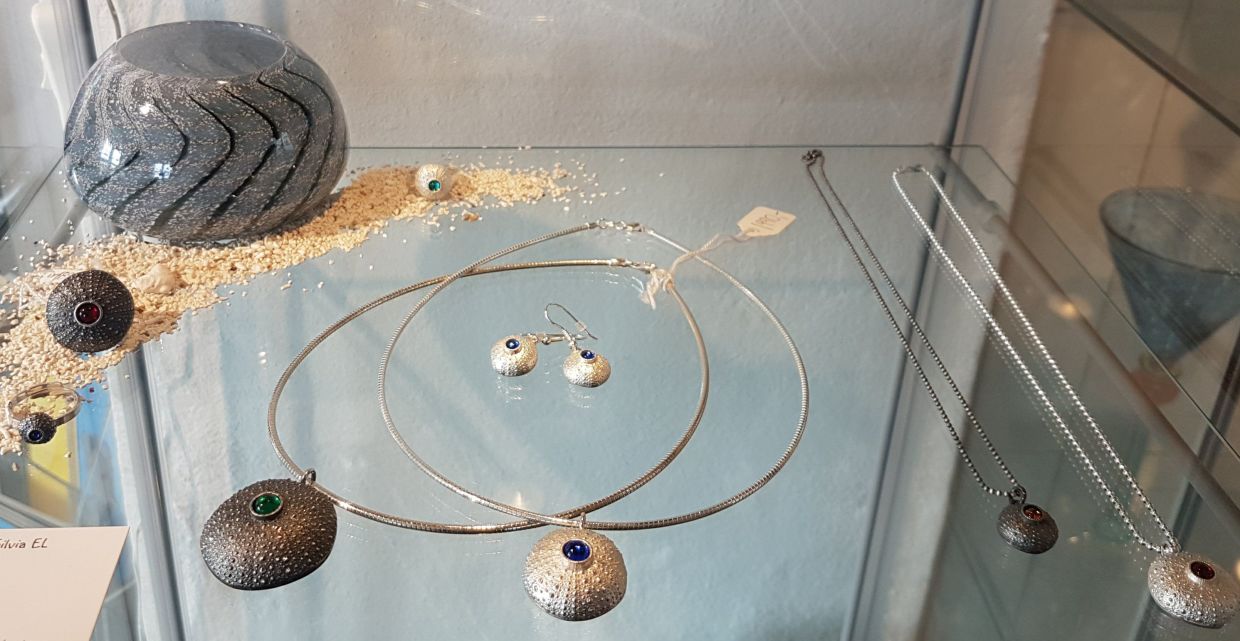 Sea urchin Jewelry jeweler Silvia Rehn Lund and sea urchin-glasslykte of glassblower Anne Ka Munkejord. Photo: M. E. Mjaaland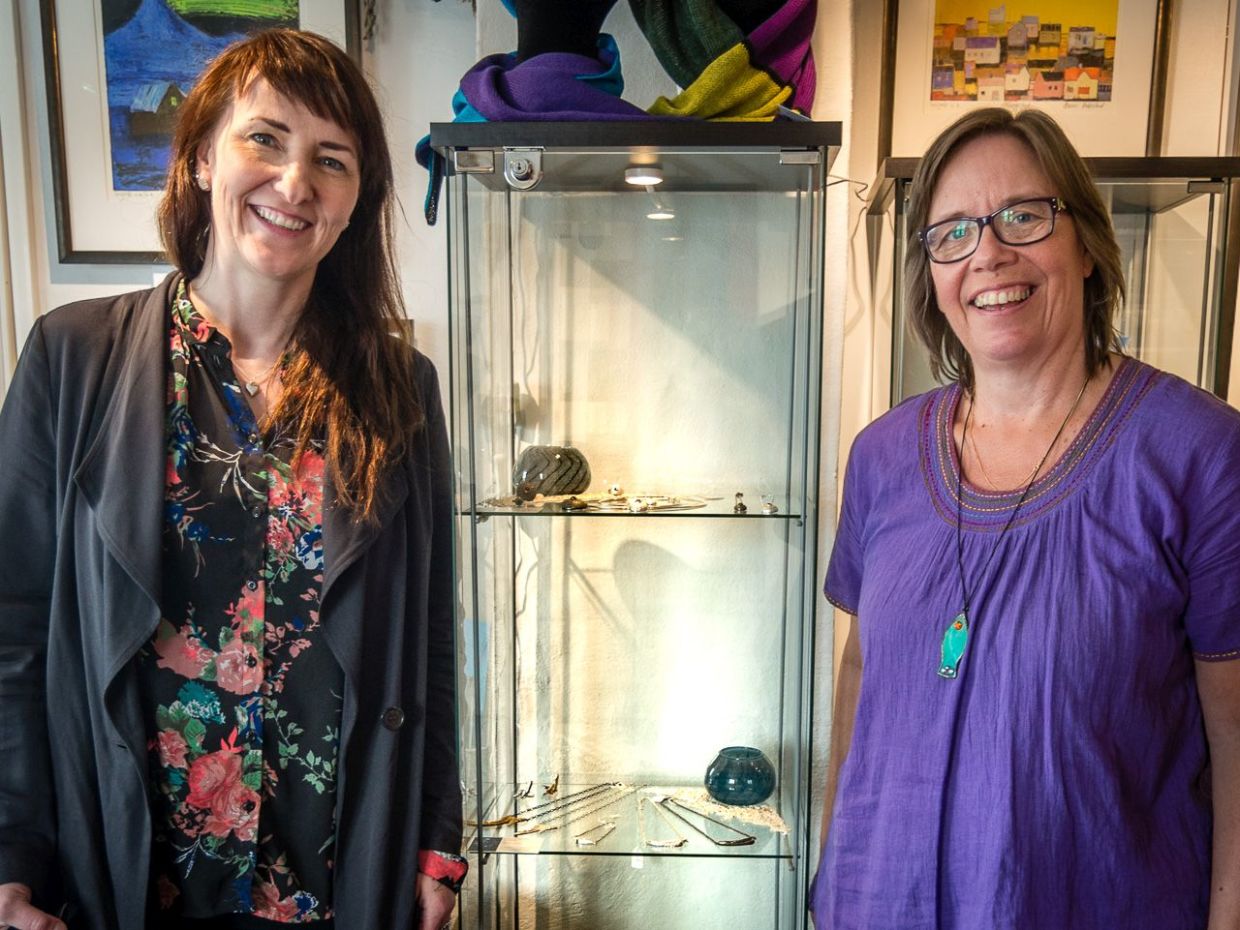 Goldsmith Silvia Rehn Lund and gallerist Marie Elisabeth Mjaaland Nyksund ART Gallery. Photo: Svein Erik Tøien.
7. KJERSTI JOHANNESSEN – glass artist
Kjersti Johannessen was born in 1977, grew up in California, and is currently living in Oslo. She was educated as glassblower from Kosta in Sweden, The Royal Danish Academy of glass and ceramics on Bornholm, and Pilchuck Glass School and Haystak Mountain School of Crafts in the United States.
Glass as a material fasjinerer Kjersti – both quality and diversity. The glass can be both transparent and opaque – and it gives her always a choice: Whether she will fight against it, or to let it flow.
Kjersti has held numerous separatustillinger at home and abroad, has received many scholarships, and are purchased by, inter alia, National Museum, Norwegian Council for Cultural Affairs and Kunstindustimuseene in Bergen and Oslo.
Kjersti Johannessen sets in summer out in Bodø Art Society. She has therefore had little capacity to contribute in "Summer Exhibition 2016". Yet we are so fortunate to be able to showcase some of her beautiful art glass, also in this exhibition – and we are very grateful.
In the future, we hope to see more of width and variations in Kjersti Johannessen glass art.
Website: www.kjerstijohannessen.com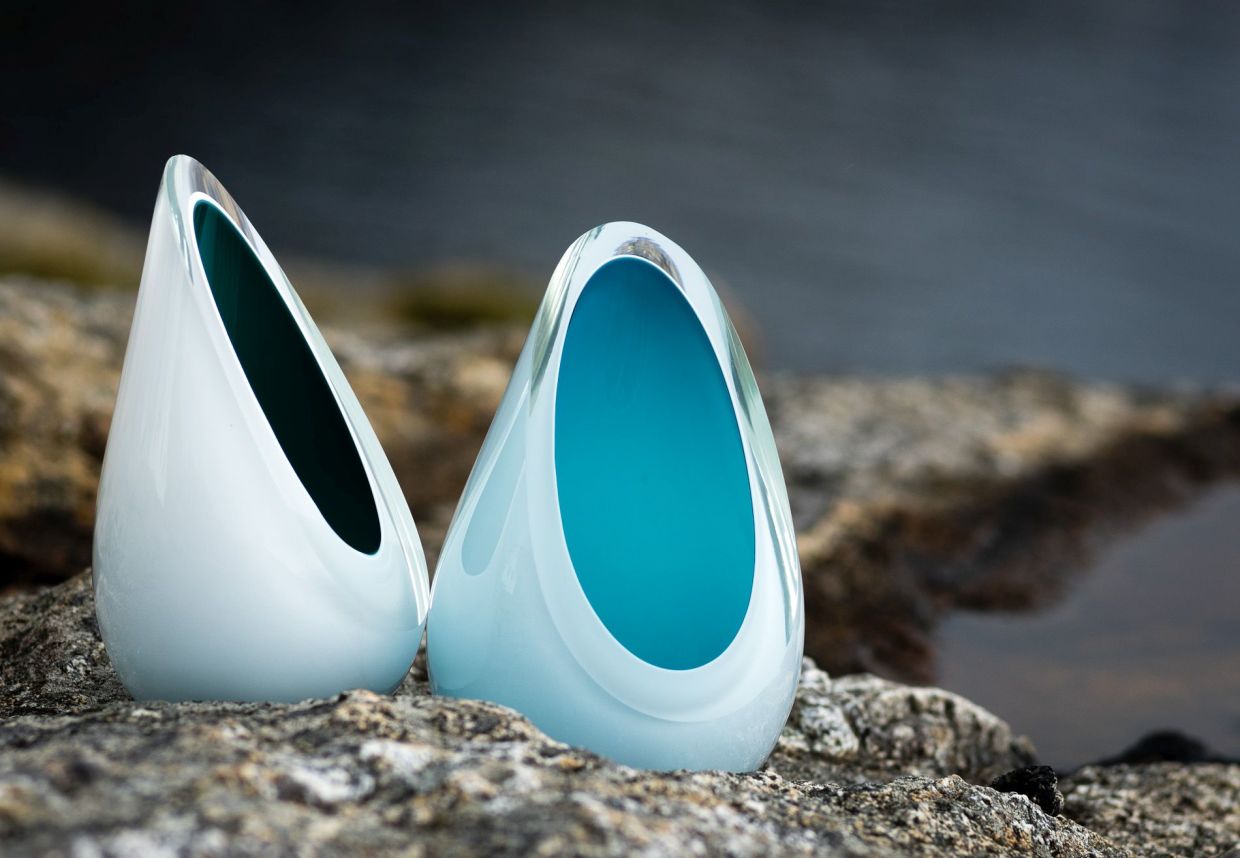 Glass Art by Kjersti Johannessen. Photo: Svein Erik Tøien.
8. BEDA MARIA JOHANSON – glassblower
Beda Maria Johanson has blown glass for over twenty years, and has her own glass workshop pierside at a shipyard in Bergen. She makes glass in delicate colors, and is concerned that things should have a function and could be used in daily life.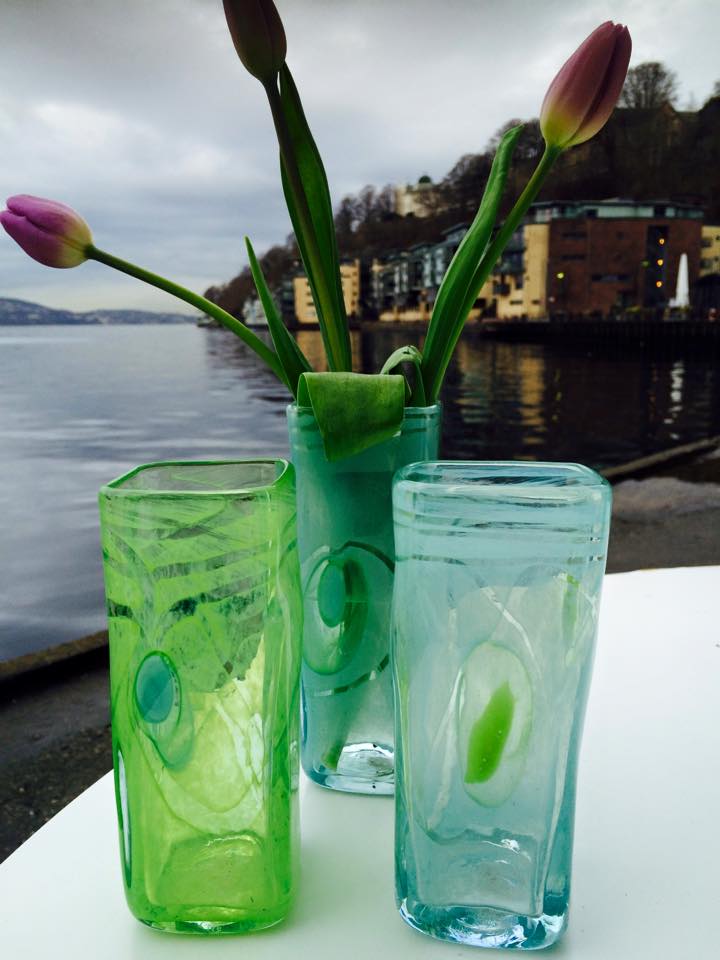 Glass Vase glassblower Beda Maria Johanson. Photo: Private.
9. ANNE KA MUNKEJORD – glassblower
Anne Ka Munkejord is a trained glassblower certified from Hadeland Glassworks and has ia worked as a glassblower on Bornholm, Hadeland and in New Zealand.
In 1998, Anne Ka established her own glass studio – "Glass Factory in Vivestad" – the inner Vestfold. Here she resides in a gas station from the 1930s, and where nature around – with its large fields, wooded hills, and constantly changing colors – is a major source of inspiration.
Whether its glass production says Anne Ka: "I want to make glass that will be a delight to the eye, comfortable to hold and simultaneously functional to use."
Nyksund ART Gallery is regular dealer for Anne Ka Munkejord so her beautiful glass products can be found throughout the year in our gallery.
Website: www.akglass.no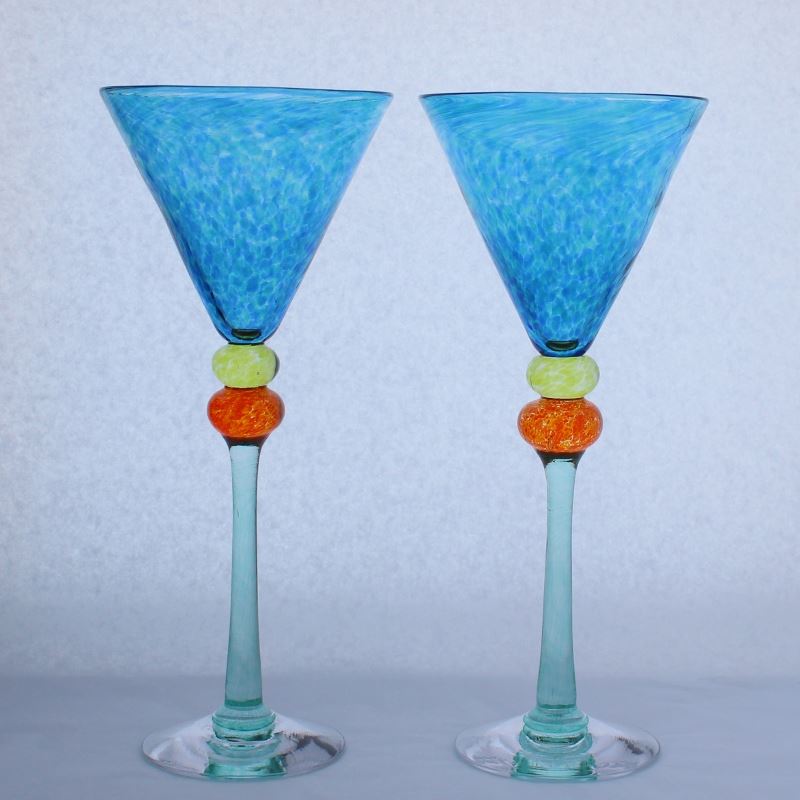 "Blue Glory" by glassblower Anne Ka Munkejord. Photo: Private.
10. BERIT ARCTANDER – ceramicist
Berit Arctander is ceramicist and resident of Ballstad in Lofoten. She is a graduate of Vikten in Lofoten, where she has worked for 12 years. Now she has her own pottery workshop and gallery – "Berit's ceramics" – in Gjerstad at Ballstad in Lofoten.
When I saw Betty's ceramics for the first time I fell immediately for her wall reliefs – modeled female characters who ia expresses a great inner strength and dignity. "Gorgeous Ladies" I call them myself. In this exhibit three "ladies" to get seen and purchased.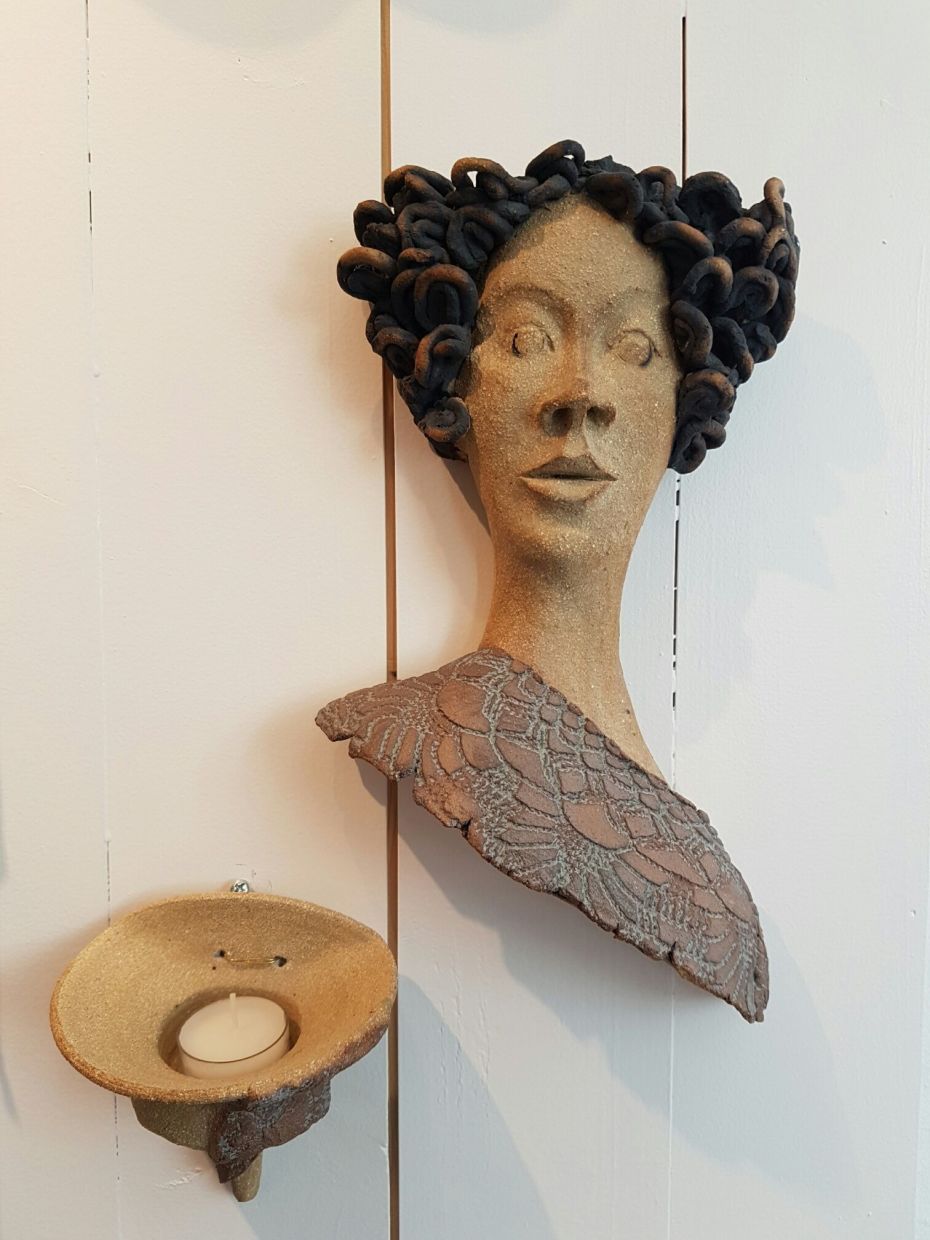 11. RANNVEIG GJEVRE – knitted woolen products
Rannveig Gjevre is resident in Svolvær in Lofoten, and has been doing knitting all her life – from 2009 full time. She is very fond of colors, and is particularly concerned that the colors will match the one that carries her products. Much of the inspiration for color schemes she retrieves from the mighty Lofoten Nature, and light all shifts in the North.
Rannveig has her own knitting workshop with outlets in Svolvær and is ia regular supplier of products for Hurtigruten. At the exhibition you will find many colorful compositions; in the form of delicious hats and shawls in soft wool and alpaca.
Website: www.strikking-rgjevre.com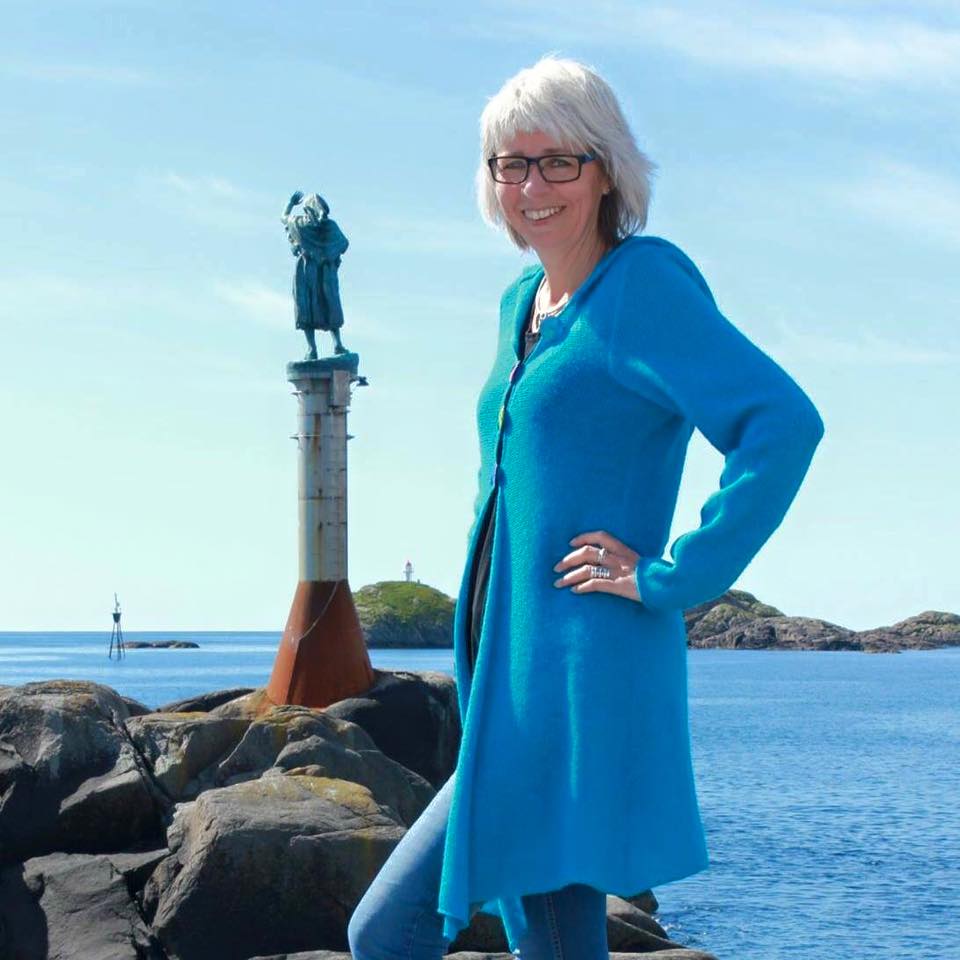 Rannveig Gjevre in self produced hooded jacket in ocean color. Photo: Private.

12. ASTRID ZABERNIG – hand-made woolen products
Astrid Zabernig is residing in Sortland in Vesterålen, creating unique and handmade woolen products in alpaca, merino wool and cashmere. All her products are inspired by the North Norwegian nature with its strong colors and contrasts. At the exhibition you will find, among other things soft and delicious hats and warmers.
Astrid has her own registered trademark for her products, "eye-catcher".
Website: www.blikkfang.info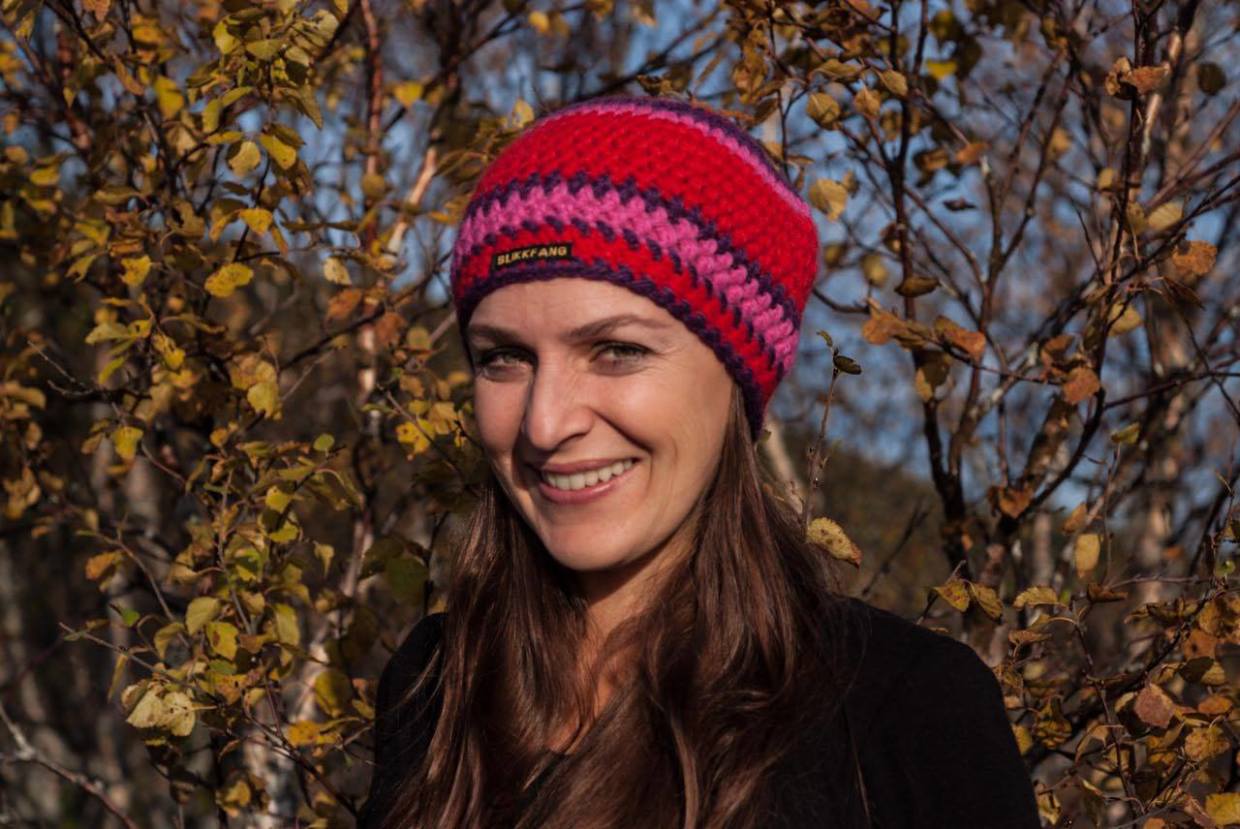 Astrid Zabernig with one of her hand-made products. Photo: Private.

Save